Daily Reporter names three CG Schmidt employees "Newsmakers of the Year"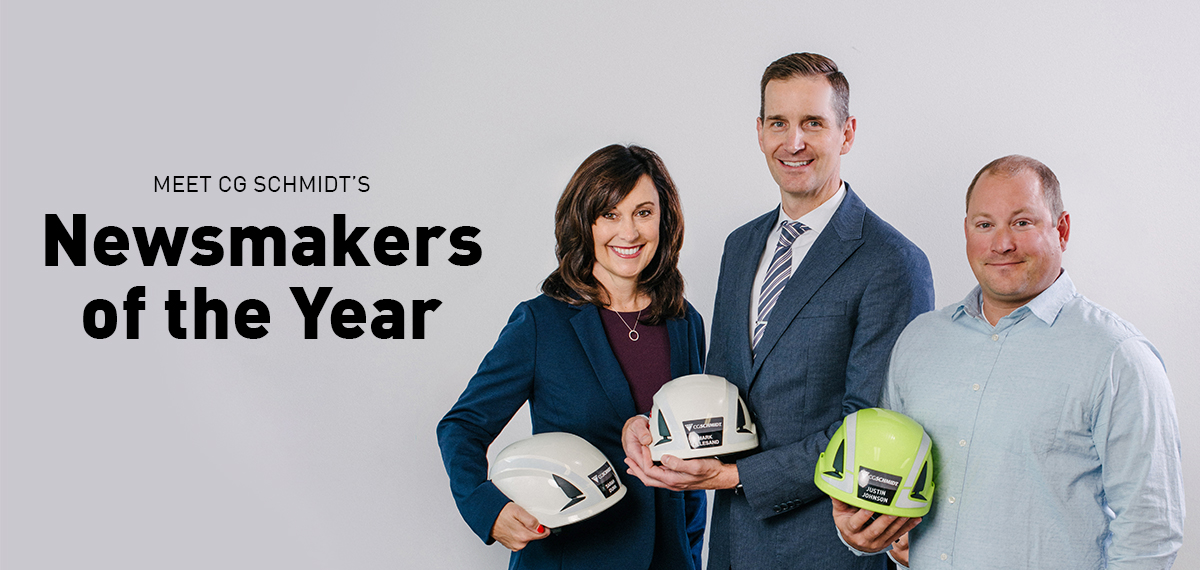 Surrounded by several hundred of their industry peers, three CG Schmidt team members from Milwaukee and Madison were recognized at the Daily Reporter's 16th annual Newsmakers of the Year awards program. Vice Presidents Mark Lillesand and Sarah Dunn, and Project Manager Justin Johnson each were honored for both their work for the company and within the industry as a whole, going above and beyond the industry standard.
MARK LILLESAND – Innovator of the Year
Mark Lillesand was named "Innovator of the Year" for his work in establishing a Lean culture within CG Schmidt. As a core member of the Wisconsin Chapter Lean Construction Institute, Mark has helped shape our business around the idea of helping clients get the most value for their facility investment. Through his innovations in the office and in the field, CG Schmidt is able to continue to deliver large, complex projects with greater efficiency, without sacrificing cost or safety.
Sarah Dunn – Unsung Hero of the Year
Sarah Dunn, Vice President of CG Schmidt's Madison office, was named "Unsung Hero of the Year," a recognition of the tireless work Sarah does behind the scenes to help our clients move their projects forward. Since joining the firm more than nine years ago, Sarah has championed several of the Madison office's largest and most complex projects from initial concepts to the groundbreaking, providing fundraising, engagement, and development support to our clients.
Justin Johnson – Project Manager of the Year
Justin Johnson, Project Manager for CG Schmidt's Madison office, was named "Project Manager of the Year." In spite of his relatively short tenure with the company, Justin has already proven to be one of our most reliable and capable project managers, earning acclaim from clients and coworkers alike. Most recently, Justin oversaw the construction of the new primary school for the Lodi School District, and is currently managing the construction of the new $55 M Wisconsin Dells High School.
Congratulations to Mark, Sarah and Justin for continuing to make CG Schmidt a leader in the construction industry.