CG SCHMIDT SEALS THE DEAL AT THE FROEDTERT HEALTH PARKING DECK
INNOVATION
CG SCHMIDT SEALS THE DEAL AT THE FROEDTERT HEALTH PARKING DECK
When faced with an challenge to prevent air contamination of a neighboring building, our crew didn't just meet the challenge, they set a new CG Schmidt standard.
Located on the Milwaukee Regional Medical Center Campus (MRMC), CG Schmidt is currently working on the fourth phase of the Froedtert Health Parking Area 6 project. This new five-story, 1.1 million SF parking structure adds 3,305 parking stalls, a critical need for staff and employee parking. While the project team was applying sealant to the concrete, it was brought to their attention that the odor of the sealant had made its way towards a neighboring building.

Our team could have brushed it off as a necessary downside of construction progress. But we didn't. Instead, understanding the value of being a good neighbor within the busy MRMC campus, the CG Schmidt team went further to make sure it didn't happen again. To immediately solve the issue at hand, a few members of the team went to the root of the problem and brainstormed better ways to apply the sealant during the application process, therefore helping to greatly minimize the odor. A few ideas were trialed, but the 'winning' idea was engineered with a bit of inspiration from a household pressure washer, a bicycle trailer for small children, and a lot of innovation and ingenuity.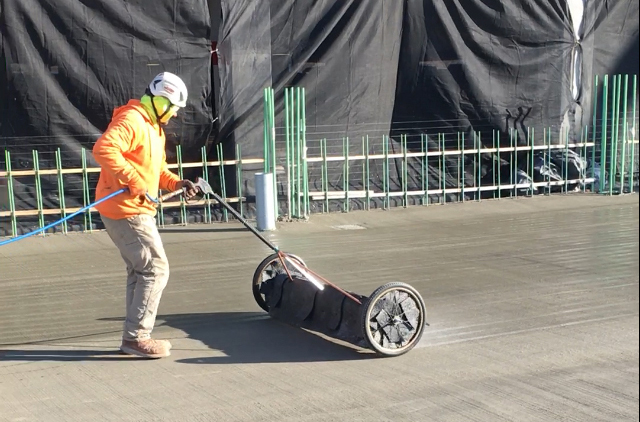 Our team ended up engineering an entirely new application device made up of PVC pipes, 2 wheels, and a number of different pressure washer fittings and parts. The new device applies the sealer much closer to the ground than the traditional method of spraying. There's also a shield covering the front, which minimizes overspray and odor. In the end, the new application process not only keeps everyone happy by minimizing sealant odor, but also reduces the amount of sealer needed – therefore saving money for our client. This resourceful engineering by the CG Schmidt team is yet another way we go above and beyond for our clients and become Your Trusted Building Partner.