See "WATTS UP" with CG Schmidt's New Electrical Project Manager, Chris McGuire
As any of our clients or partners will be quick to tell you, if there's one thing that CG Schmidt obsesses over, it's developing new ways to make the construction process easier and more transparent. At the bedrock of this obsession lie our values as a company, the core of which is caring about our clients. As a "Lean" construction company, we're always exploring new ways to improve both internal and external communication, streamline processes, and deliver a better quality product than our competition.
It was with this mission in mind that CG Schmidt recently made the decision to augment our traditional construction management services, expanding into the world of Low-Voltage Systems (LVS). Before we go into the tremendous benefits this will have for our clients, let's start by defining what LVS entails. While the strict definition of "low voltage" varies a bit between countries, the National Electrical Code defines low (distribution systems) voltage as 0 – 49 volts. In your typical residential home LV systems would include things like doorbells, garage door openers and landscape lighting. In the commercial building world, examples of Low-Voltage Systems would include fire protection, security systems, paging/intercom systems, nurse call systems, wireless clocks, and more. In your typical building project, the responsibility for all of these systems would be subcontracted out by a commercial electrical contractor, who themselves would be subcontracted to the General Contractors or Construction Manager. So why is this an issue?
"Often times, what we would see under the traditional model is that the clients and end-users were either not getting the most out of their systems, or in many cases, not getting the right systems for their needs at all," says CG Schmidt Electrical Project Manager, Chris McGuire. "You have this massive disconnect between the client / end-user and the people designing the systems. They're just not in the same room together and communication suffers."
With nearly twenty years of electrical experience, Chris joined CG Schmidt's project management team to help bridge that gap in communication. "These systems that you're building, users are going to be interacting with all of the time. My job is to make sure that you're getting the right ones and that you know how to use them effectively. Where before you might have just been given a handbook or a manual from the manufacturer, now you have someone on the project team who can walk you or your facilities team through them, face to face."
And the benefits don't stop there. Even before electrical contracts are bid out, Chris is there to participate in preconstruction meetings, working alongside CG Schmidt's BIM/VDC team to look for energy efficiency and cost savings opportunities in design. For CG Schmidt clients, it all adds up to another person in their corner, advocating for their interests. For CG Schmidt, it's a chance to better control project costs and schedule, while delivering a superior construction experience for our clients.
"We're extremely grateful to have Chris on our team," said CG Schmidt Vice President and General Manager, Dan Chovanec. "The skills, knowledge and talent that he brings to the table are going to have a lot of benefits for our clients, and ultimately makes sure that CG Schmidt continues to be unique in the depth and breadth of construction services we can offer."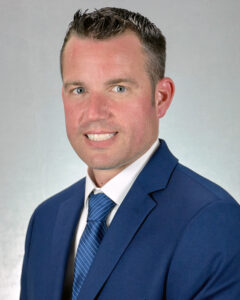 Chris McGuire started his career in the electrical field in 1999, working as a Field Electrician. He currently holds both an Electrical Journeyman's License and a Master Electrician's License through the State of Wisconsin. Throughout his professional career spanning two decades, Chris has provided electrical project management for projects of all sizes in the healthcare, commercial, heavy industrial, and food and beverage industries. Contact Chris McGuire at chris.mcguire@cgschmidt.com, or at (608) 630-7510.