Summer Interns

We have a lot of summer interns this year getting a lot of work done! Whether it's breaking ground on a school project, archiving years of old photographs or making sure all of the jobsite paperwork is filled out, these interns have been working hard. As summer comes to a close and many of our interns are saying goodbye for now, we wanted to take a moment and recognize them for a job well done!
---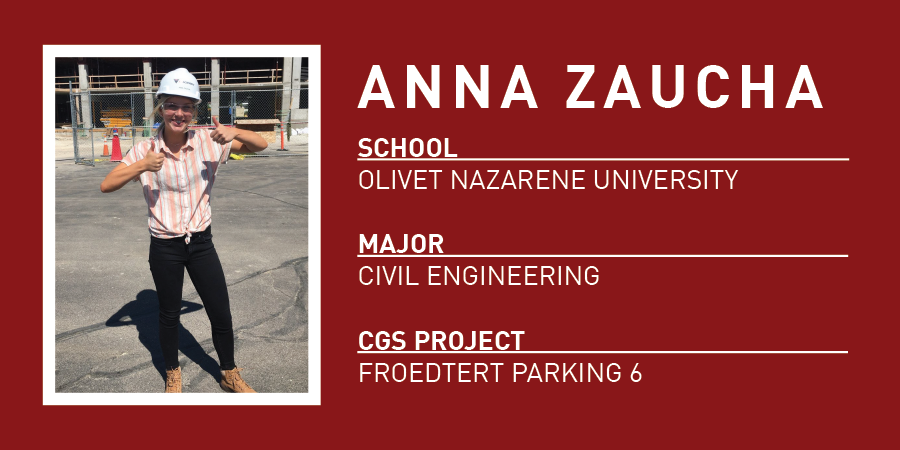 My favorite experience of working at the Froedtert Parking Structure 6 this summer was being involved in all of the planning meetings for the project. There were a few instances in which something completely unexpected happened and a planning meeting was immediately required. It was so awesome to see people from all different companies and careers come together and brainstorm. Although we would plan out our course of action as much as possible, every day presents new challenges and problems that needed to be solved. In order to be successful, one must be able to adapt quickly to change, remain calm and think critically while under pressure, while communicating ideas clearly and effectively.
Going into the summer, I really didn't know what to expect, so I didn't have many huge expectations for the job; however, I was surprised at the amount of care shown to me by CG Schmidt in various ways. Helena Johnson, the Project Engineer on my site, was amazing at taking me under her wing. She would always stop whatever she was doing to answer any questions I had and she also took time to get to know me as a person. Eric Rybold, Project Manager, was intentional about taking time to walk with me around the jobsite, explaining what the construction crews were doing and how it related to my work as an intern. This was extremely beneficial in helping me see that all of my spreadsheets and data collection actually had a real and tangible purpose.
Unfortunately, about two weeks into my internship, I was diagnosed with Thyroid Cancer. This came out of nowhere and was totally unexpected. Helena was there when I received the call and was so understanding and supportive throughout the entire process. From receiving flowers in the hospital after my surgery to hearing that employees of CG Schmidt were thinking of and praying for me; I believe they really embody the company's core values.
---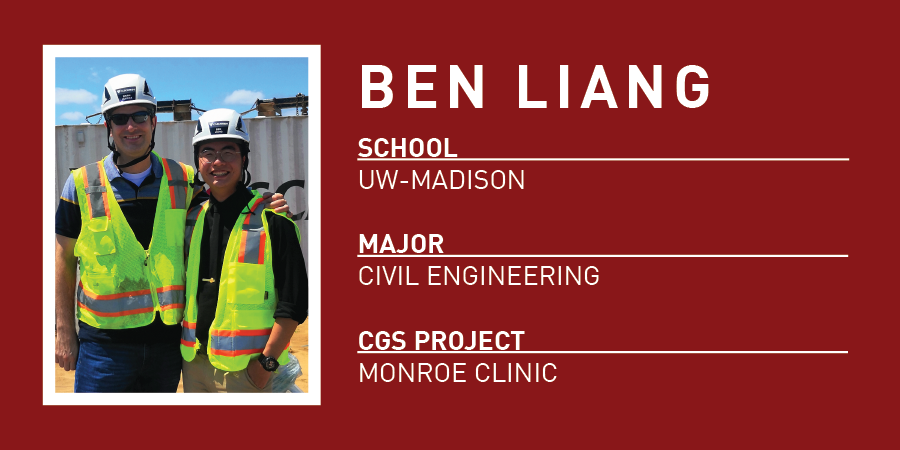 One of my most memorable and favorite experiences was having the opportunity to tour various jobsites with Brian Horras and learning about the different projects in progress. One specific thing I learned while working at the UW-Lowell project was the process of construction sequencing and scheduling. Although I know the construction industry can have many surprises along the way, I have not yet encountered any; however, I'm sure as I continue down the construction career path.
---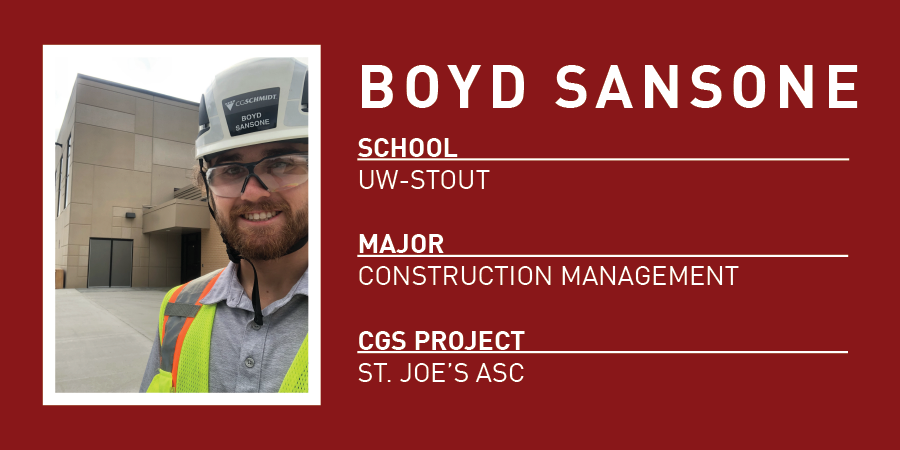 During my summer internship, I learned a lot about the RFI and Submittal process. I really enjoyed managing this process and it gave me a chance to work with the Architect and Subcontractors directly. Prior to my summer internship, I understood what RFIs and Submittals were, but I was able to be hands on during the entire process, helping me take a deeper delve into managing the process.
Although I wasn't surprised by much this summer, I believe that my internship opened up my eyes to the construction management process as a whole. I have so much to learn, but working on-site this summer, I was able to be hands-on and involved with many aspects of the project. These experiences were second-to-none and gave me the extra experience I need for when I return as a full-time Project Engineer in February. I couldn't be more excited!
---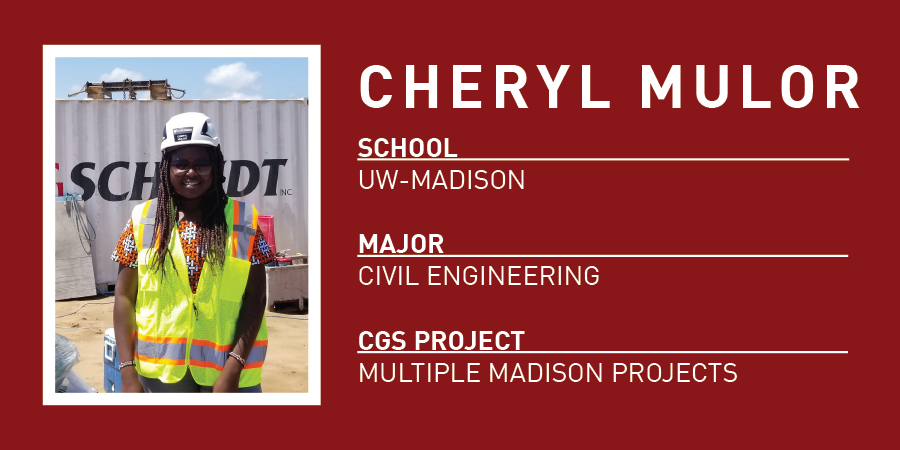 My summer internship included working at the Madison office on various projects rather than a jobsite. One of my favorite activities was the mock bid that was organized by Brian Horras. It was fun and I also learned a lot at the end of the process. Additionally, I enjoyed joining and participating in the Hard Bid projects.
Because this was my first construction related internship, I learned a lot of new things such as how to use the different construction software like Bluebeam, Plan Grid and Building Connected. Another lesson I took with me was learning how to prioritize my work when there were multiple projects happening at once. Thanks to Debbie Wurtz and Austin Rausch for guiding me, I definitely think I'm more accountable for my work because of them.
I think what surprised me the most about my summer internship was the amount of paperwork that needs to be completed for each project. I knew there'd be a lot, but I never thought it'd be this much!
---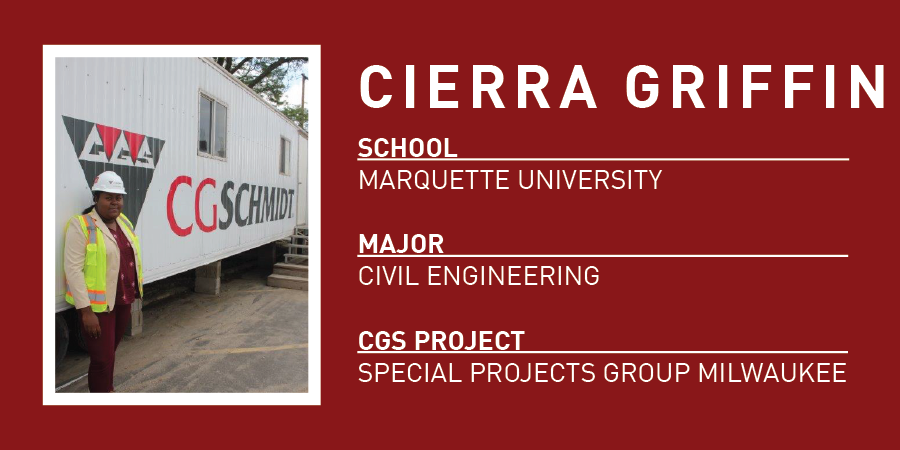 This was my second summer internship with CG Schmidt. Last summer, I started out at the Froedtert Parking Deck and worked on it part-time through the spring semester. This summer, I joined the Special Projects Group to get another perspective on the construction management field. One of my favorite experiences this summer was watching the precast panels be erected on two of the projects I worked on and seeing the difference in the panels. Because I interned last summer, I was prepared and knew what to expect; however, one thing that stuck out what how long it takes to fabricate steel!
During my time this summer, I enjoyed having more contact and being more involved with the Architects on the projects.
---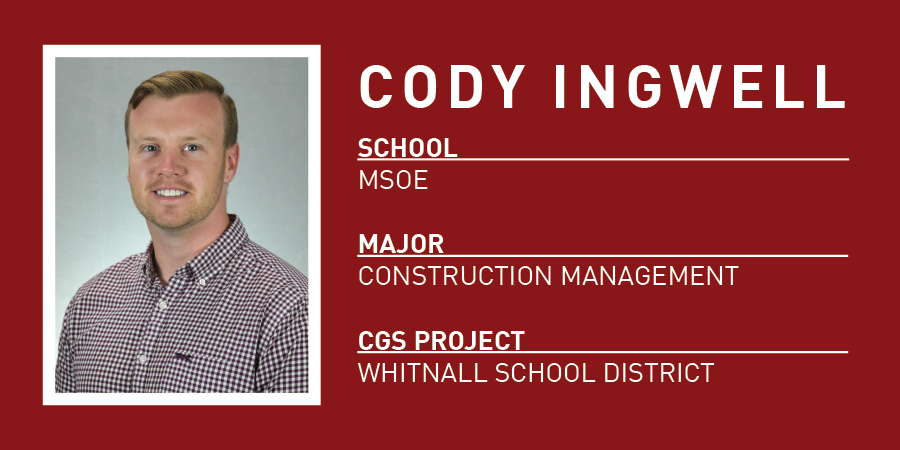 During my summer internship, I worked at Whitnall School District with Dan Duerrwaechter, Zach Roth and Mike Lamp. My favorite experience was witnessing New Berlin Grading complete a mass demolition of an entire wing of the school; it was amazing to watch up close and personal. However, one thing that surprised me was the coordination between CG Schmidt and the subcontractors. This was a great learning experience for me as it gave me a better understanding of the day-to-day work that needs to happen in order to finish the job on time. I truly enjoyed being a valuable member of the team that my colleagues could rely on to get the job done.
---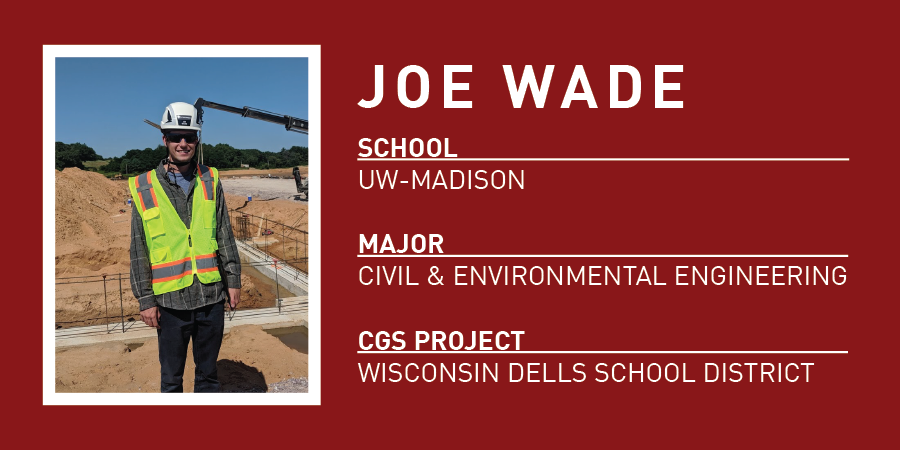 My favorite days on the jobsite were when new subcontractors began construction. There is a lot of preparation that goes into their sequence and schedule, and by the time they arrived on-site, we'd have been discussing their work for weeks. It's gratifying seeing things like a foundation wall being poured, or CMU block start to go up, especially for me being new in construction. This was the first time I've seen some of these things outside of the classroom or in photos. I also really enjoyed the group discussions with the project team. I got to learn not only technical building concepts, but also management and communication skills that will prove to be extremely valuable in the future. Additionally, I felt comfortable speaking up and giving my opinion and got great feedback from the team.
One thing that really surprised me was the amount of communication skills and techniques that the project team uses every day. I am continually impressed with Steve Carmody's, Superintendent, interpersonal skills and ability to compromise and work through conflicts with subcontractors. A huge part of this job is communication and ensuring the audience receives the information you're trying to convey; Steve has mastered this. He also seems to understand what potential conflicts there may be before they arise and takes proper steps to mitigate them. His mentorship has given me confidence that will carry with me into my career, and he has been a great role model for me throughout the summer.
---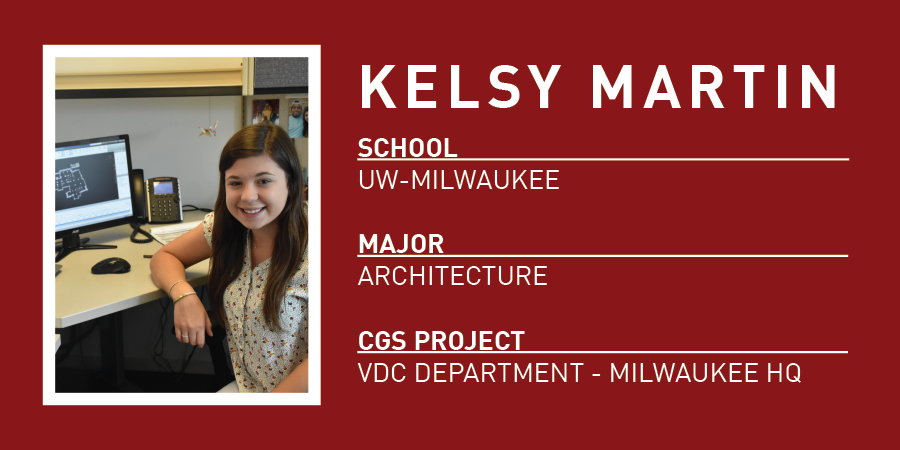 One of my favorite days as an intern was being able to see the project that I helped build using high-tech software programs on the computer being built in real life. Before I did an actual site tour, I was only able to imagine the project by utilizing the software programs, but once I was able to watch the actual walls being built, I was able to watch my work come to life. It was an amazing experience to see it hands-on. The smart technology programs that I used to build the models are very powerful and it amazes me what I was able to them.
I learned so much in just one summer. I feel like my knowledge has extended greatly and I'll be able to continue to use this knowledge in the future.
---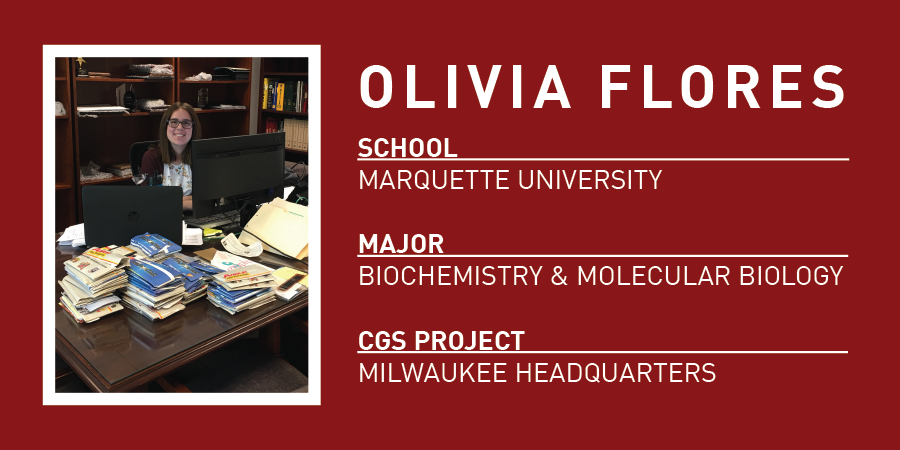 During my summer internship at the CG Schmidt corporate office, I helped with a wide variety of projects and initiatives. One of the last projects I worked on was emptying boxes filled with old jobsite photographs, awards and other past items the company has collected over the years. It was really neat being able to see the great project photography as well as construction crews working on-site.
While in the office, I learned a lot about data entry and how to use the various databases, which is something I didn't have previous experience with. I felt like I learned a lot using the databases and will be able to carry my experience with me for future endeavors.
I came into this internship knowing and understanding what my role would be, so nothing surprised me too much, and I had a great experience overall!
---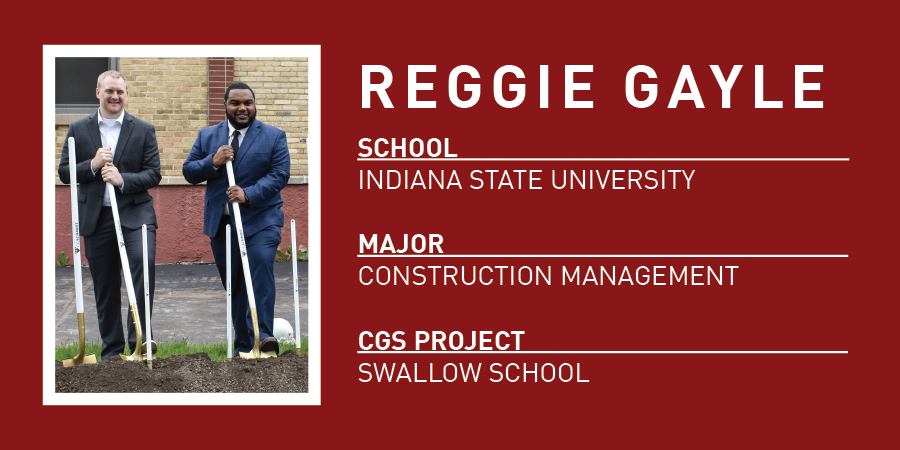 As an intern, my favorite experience this summer was the PE/Intern Bid Challenge that was held at the Madison office. It was great meeting the other interns from both the Milwaukee and Madison offices.
Although I enjoyed many things during my time as an intern, my favorite was watching the demolition of part of Swallow School. I have never seen anything like that, and seeing the claw operator skillfully take the entire building down was a sight to see and one I'll never forget.
One thing that surprised me about my internship was the amount of responsibility I had as an intern. I was tasked with talking to bidders and creating a GMP document list, and even though this was surprising, it also made me happy knowing my supervisors were willing to put their trust in my work